|

Tags:

Coal Production

,

North America

A decision by the Surface Transportation Board to dismiss the Tongue River Railroad Co.'s application for a rail line that would have connected a proposed Montana coal mine with ports in the Pacific Northwest formally puts another nail in the coffin of both projects....

|

Tags:

Jobs

,

North America

,

Wind

Virginia could add as many as 14,000 new jobs tied to the offshore wind energy industry over the next 15 years, according to a new report. Issued by the American Jobs Project in partnership with Virginia Tech. The report concluded that Virginia is well-positioned for...
|

Tags:

Jobs

,

North America

,

Politics & Legislation

,

Wind

A small but growing number of once-skeptical Republicans is embracing wind and solar energy as renewables add plentiful jobs in states like North Carolina, Georgia and Texas. Several factors are behind the conservative surge toward renewables. The first is economic;...

|

Tags:

Australia

,

Coal Production

,

Jobs

Despite what they might say publicly about a rosy future for coal, coal mining executives don't see it that way behind the scenes. Executives at Australian coal mining giant BHP Billiton told analysts recently that if the world followed through on its pledge to limit...
|

Tags:

Financing & Economics

,

Natural Gas

,

North America

Citing inadequate commitments from prospective customers, Texas-based energy company Kinder Morgan has suspended work and expenditures on a proposed 120-mile interstate natural gas pipeline between Massachusetts and New York. Continuing to sink money into the...

|

Tags:

Coal Production

,

Financing & Economics

,

North America

Saddled by $9 billion in debt, Peabody Energy, the world's largest publicly owned coal producer, has filed for bankruptcy in a move that surprised nobody. Peabody's Chapter 11 filing means three of the nation's top five coal producers have fallen victim to collapsing...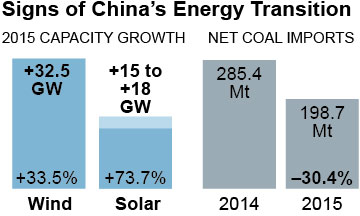 |

Tags:

Asia & India

,

Clean Energy

,

Coal-fired Power

,

Solar

,

Wind

With renewable energy and coal headed in opposite directions, indicators are pointing to a fundamental shift in China's energy economy, which in turn is helping shape the global energy landscape. China set records for new clean energy installations in 2015,...